George Richard Hast and Francis Rebecca Shaffner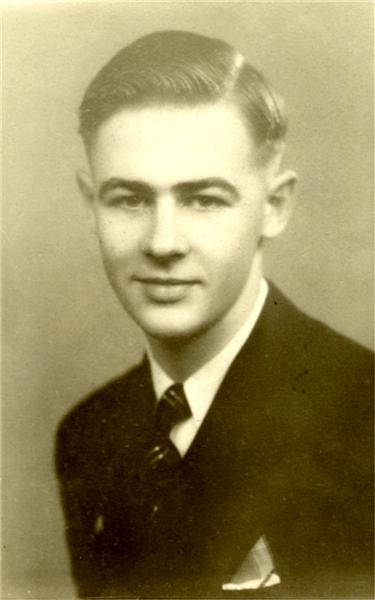 George Richard (Dick) was born in Butte, Montana, April 8, 1920,the son of Rosaline Mohr Hast and Fred Homer Hast. He was their second child, a son, Fredrick Louis, born November 14, 1917 and died of meningitis, in 1919, preceded him. His father was an engineer for one of the copper mining companies. Butte was a town where people were of every nationa1ity, they had been lured there by the wealth that the copper was to bring. There were Indians living close to Butte. The Hast told of their poverty. how they had been seen eating food that others had placed in garbage cans. And the children would take anything that was left out unattended. One incident involved Dick's tricycle. It had once been a beautiful area, but the fumes from the mining had killed every tree, almost and there were very few places where grass grew.
The Hasts' were unhappy to leave the scenic mountains. Dick's dad always said he would like to go back and live there when he retired. Dick started kindergarten in Palestine. Texas, while his rather worked there. The fig trees grew in the yards and Dick became fond of black-eyed. peas. The fami1y had some good friends there, the G. K. Bills. Dick's family also lived in Pecatelle, Idaho, back again to Des Moines and settled. for the majority of his parents lives, in East Moline, Illinois, where he completed his education and began his mature life.
Dick met Frances Rebecca Shaffner, born September 30, 1921, while in high school. They were married July 1, 1939. He had worked at a number of places, but when he began at Deere and Company, that was to be his work place until retirement. He worked in the machine shop and liked the work and the men he worked with. Many were friends for the thirty-two years that he was employed there. Dick and Fran had 4 boys.
Jeffery Richard Hast born April 20, 1940
Louis Stephen Hast born August 8, 1943, deceased
Roger George Hast born November 20, 1946
Brian Lee Hast born May 29, 1950, deceased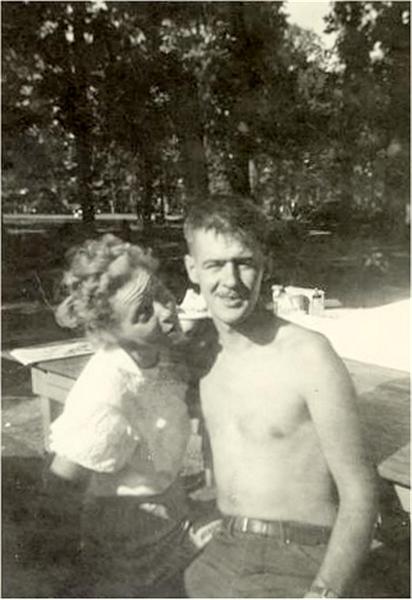 Sunday August 10, 1950 at crystal Lake near DeWitt Iowa

In 1971, there was a change in the shop where Dick worked. He and Frances bought an old bank building in Salem, Iowa, to be near Frances's father, who had lost his wife the year before. They started an antique shop, which they named, Salem Antiques. It was a change of life-style completely, but they enjoyed seeing all the things that they couldn't possibly see as ordinary collectors. Dick learned to repair clocks and refinish furniture and most of it was satisfying.

Dick was always an outdoor person. Nothing ever replaced in his way of thinking, the sky overhead, the water running in a good fishing spot. The Oakland Dam area, became his spot to commune with nature and get away from the talk with customers in the shop. He missed the days of getting in the car and traveling the United States, Canada and 1onged to make the Alaska trip again.

The children of his children were important to him. He enjoyed visiting with all of his "gang". Five grandsons and five granddaughters are a legacy for any older person to reflect on, perhaps more important than the amount of money in the bank book or the stocks and certificates that represent a life of trying to get ahead in the world.
This story of course, will remain incomplete for a very long time. Who knows, perhaps one of these grandchildren will have an interest in knowing about the people who were in their background and write more to this story.
Dick, Fran, Louis and Brian have deceased.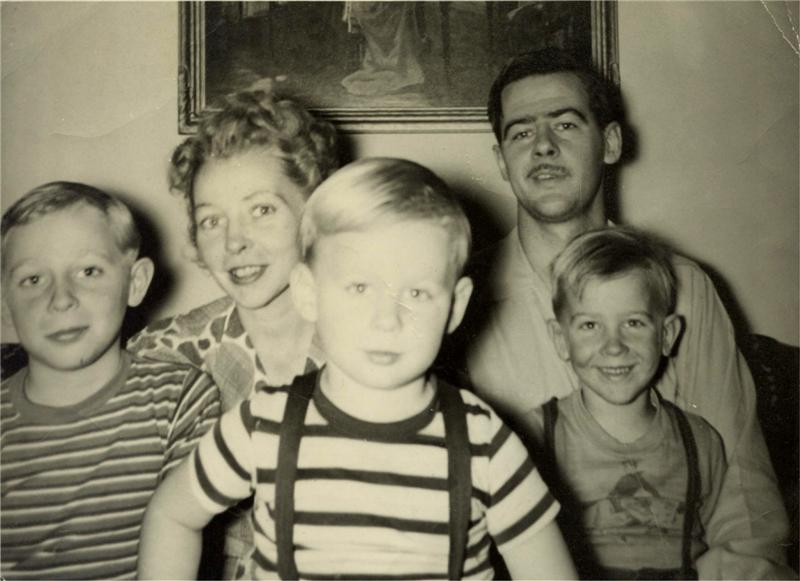 Fran, Dick
Jeff, Roger and Louis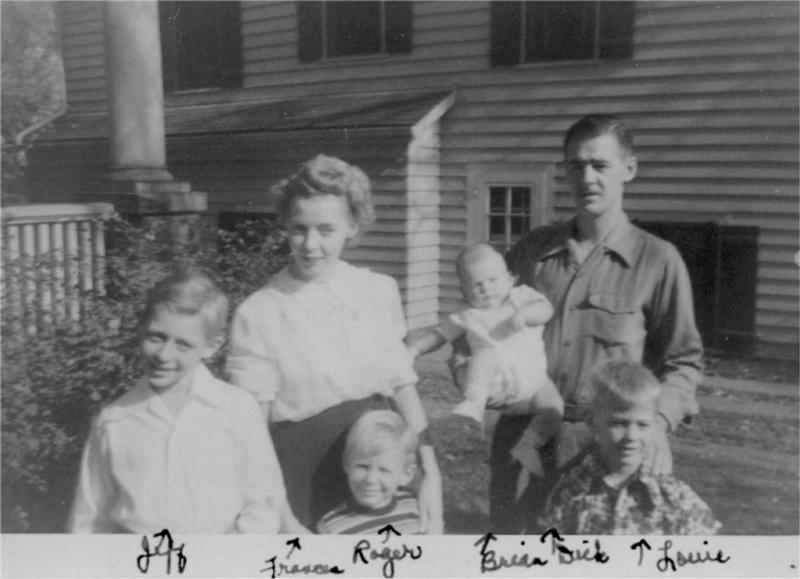 Picture taken in Rose Hast's front yard, Thanksgiving 1950