Louis Mohr Hast and Elaine Ila Preston
Louis Mohr Hast was born September 6, 1924. He was the son of Fred Homer Hast and Rosa Dora Mohr. Elaine Ila Hast was born July 12, 1928. Louis had one sibling, George Richard Hast. Elaine was the daughter of William Franklin Preston and Edith Phillips. Elaine had 2 sisters, Barbara Preston and Helen Kay Preston and one brother, Charles Franklin Preston.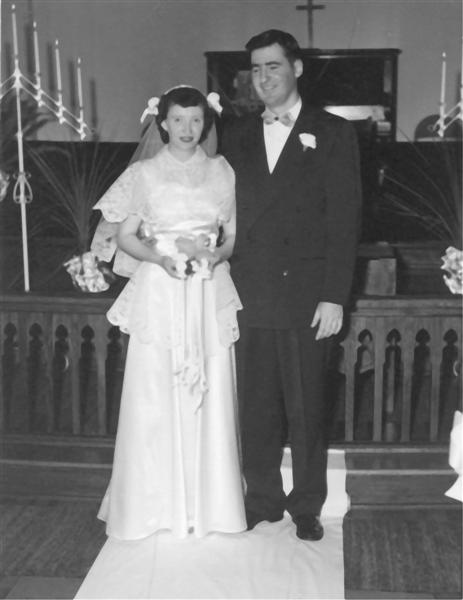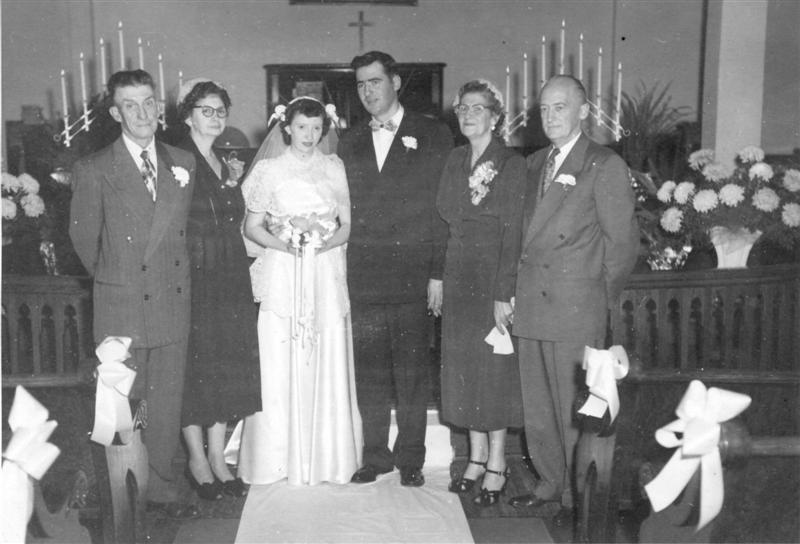 Louis and Elaine were married on November 10, 1951. they resided in Silvis Illinois for a short time. During this time they had their first son. His name was Gerald Louis Hast. He was born on September 21, 1952. They then moved to Rapids City where they lived for many years. while in Rapids City, they had their remaining children. Gene Preston Hast, born June 6, 1956. David Gale Hast, born September 5, 1957. Debbie Elaine Hast, born October 6, 1958.
Louis was work as a Toolmaker for International Harvester works in East Moline, Illinois. It seemed that every so often he would go on evening shift and also be laid off for a strike. Every so often Louis would talk about retiring. When he had 30 years in at IH, he stopped talking about retirement. Louis really enjoyed his job at IH. Louis retired from International Harvester after it was announced that IH was being bought out. Louis retired in 1985 after 35 years of service.
The property in Rapids City was large enough that it allowed space for several long rows of raspberries and a good size garden. When the children were growing up, the summer's were filled with Elaine canning vegetables, Louis working in the garden after work and the whole family sitting down to an evening meal with fresh vegetables. Every so often the evening meal was just sweet corn. This always seemed to be quite a treat. Later in life the children found out the garden was a way to supplement income. The strikes were always a hardship on the family, but they managed to get through.
Every Sunday, the family would go of to the Port Byron Methodist Church. When Debbie was very young, Louis dressed here in her Sunday dress. It wasn't until we were at church, that it was noticed that Louis had forgotten to put her underwear on her. Louis didn't go to church all the time. The children remember dad coming to pick them up after church since Elaine didn't drive at that time. Later on Elaine got her driver's license. She then took a part time job as the church secretary. During the summers she would load everyone up in the car and head to church so she could make the Sunday bulletins and monthly newsletter. This allowed the children to explore the church and several other buildings on the church property. During one of these visits, David and Gene were playing with Steve Bulla, the ministers son. Steve was digging a fox hole. Eventually they hit some bricks. When the bricks were removed, it exposed a brick tunnel, large enough to walk through, heading off toward the church. Unfortunately, this was never entered or investigated.
There was always an abundance of family during the holidays in the early years, filled with lots of aunts, uncles, and cousins. Many favorite holiday memories were built when everyone got together, and the house was always bursting at the seams. Because Louis and Elaine had the largest house (not large by any means in today's world), most of the gatherings were at their house. The family captured many of these fun family get-togethers on the first camcorder, the old Super Eight. Later the film was transferred to a DVD, where the whole family enjoys these timeless memories.
Louis was always carving something throughout his life. The earliest memories are of a small bust of the Indian Sitting Bull, a Zebra bust and a small bust of his father. He was also carving gun stocks for hunters where he worked. Later in life he had carved some birds, including some ducks. Some of these were put on display and won some awards. He still continues to carve and now the great grandchildren take joy in the more whimsical pieces.
Elaine got interested in crafts and found she had a talent for painting. once a year she would have a craft show and sell off what she had made during the year. A big hit of her items was a Noah's Ark necklace. Louis would cut out the intricate animals that fit inside the necklace and Elaine would paint them. She also made other necklaces for every imaginable holiday and season. These were never sold though stores or mail order, but she had orders that came in as far away as Australia. This yearly craft show eventually stopped later in life, but she continues to provide craft items for the Methodist Church yearly holiday bazaar and helps run the craft room.
Louis passed away on February 9, 2017. Weeks prior, Louis was not mobile. Rather than put him in a nursing home, we brought in hospice. Several times Elaine woke up in the night hearing Louis talking. He was having a conversation with some one. Elaine asked him if he was talking to the angels, he responded, Yes. When he passed away, he was surrounded by Elaine, Debbie and Michelle. Louis was not in any pain. He passed while he was asleep.