Sir Simon Preston
1314 - 1375
Born: 1366
Father: Sir John Preston b.1297
Born 1324, Craigmiller, Edenburgh, Midlothian, Scottland
Sons: Sir George Preston
Sir Henry Preston
Sir Simon Preston
Sir William Preston
Sir Andrew Preston
In 1374, Sir Simon de Preston bought Craigmillar Castle which in later centuries became a favorite retreat for both James IV and Mary Queen of Scots.
Knighted in 1374. Sir Symon de Preston. Heir to Craigmillar Castle was granted lands by King Robert II.
Died: 1375 at age 61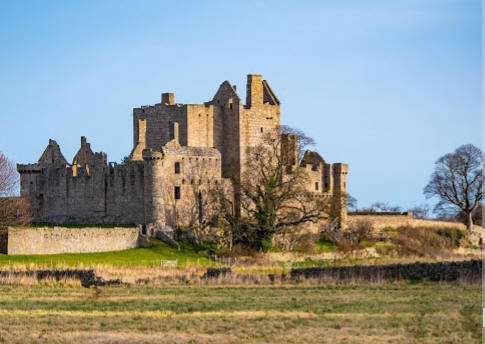 1374; Barony of Craigmillar acquired by Sir Symon Preston from John de Capella. Tower House built.

Sir Simon de Preston was the Sheriff of Midlothian. It was Simon's son, Simon Preston, or his grandson, Sir George Preston, who began work on the tower house which now forms the core of the castle.
About 1350 Gorton, formerly belonging to Margaret de Goiertoun, was conferred by King David Bruce upon Sir John de Preston, a soldier of distinction who had accompanied him on his invasion of England in 1346, and with him had been taken prisoner at Neville's Cross, and afterwards confined in the Tower of London. The lands were erected into the barony of Gorton or Preston, which through various vicissi­tudes remained in the Preston family for four hundred and fifty years.
https://en.wikipedia.org/wiki/Craigmillar_Castle