Louis Hast Sr.
Louis hast was born April 23, 1849 in Steinau An Der Strasse, Germany. The son of August Theodor Hast and Wilhelmine Hammerschmidt. He had a brother Charles John born October 2, 1851 and a sister they called Mary.

His father died when he was eighteen, The family came to America to live with his mothers family. They settled first in Buffalo, New York. After about a year, Louis moved to Winterset, Iowa where he worked as a butcher in 1864. In 1869 he moved to Des Moines, Iowa, then little more than a fort and a scattering of houses. He established his meat market and cattle buying business. The meet market was located at 604 East Grand Ave. Des Moines IA. It was located next to Hammer Pharmacy. This is down the street from the capital building.

On May 2, 1870, Louis married Sophia Worth. Witnesses were John and Louise Worth Schmidt.
Their daughter Miriam Wilhelmina was born March 19, 1871. Her record of baptism is dated April 9, 1871. She was called Mary by the family.
A daughter Guillelman Martinam (Martha) was born March 10, 1872. She was baptized the following day and died May 18, 1872. She is buried at St. Ambrose Cemetery in Des Moines with Sophia Worth.
A son named James died at birth.
A son August was born September 1, 1875. August Hast married Blanche Thomas and had 2 children, Byron and Madeline. After some accident happened to his wife, August moved to California and lived in around Los Angeles. August died October 15, 4 a.m. , 1937 of a stroke at Washington, D.C.. August is buried with his wife in Des Moines.
A daughter Partha was born October 12, 1876. She died May 12, 1877. She is buried at St Ambrose in Des Moines with Sophia.
A daughter Louisa was born September 15, 1878. She was called Lulu by the family. Lulu died Jan 2, 1897.
Sophia Worth died November 30, 1879 and was buried with her two daughters in St Ambrose Cemetery in Des Moines, IA.
On January 3, 1881 Louis Hast Sr. married Charlotte Anna Baker. They had three sons and a daughter.
Carl Baker Hast born 1883
Georgia Annette Hast
Fred Homer Hast born 1892
Louisís daughter Lulu, died January 2nd 1897. She had just graduated from school and was sadly missed by family and friends. She is buried at Laurel Hill Cemetery in Des Moines with Louis Hast.
On June 12, 1900 Louisís daughter Mary was married to Charles Cornelius Shope. They had three children, Dr. Richard Shope, Raymond and a daughter Ellen. Mary is buried in Des Moines.
We have no information about Carl Baker Hast. He was born August 18, 1883 and died Aug 23, 1915. He died in Albuque, New Mexico, August 23, 1913 age 32. He is buried, with Louis, at Laurel Hill Cemetery.
Louis Sr. and Annaís son Louis Grover married Florence Lee Harris May 27, 1908.
Their daughter Georgia Annette married Dean W. Peterson on August 12, 1913 at a lovely home ceremony.
Their son Fred Homer Hast married Rosa Dora Mohr on May 24, 1915.
Louis and Anna attended the Presbyterian Church on 10th street west of Grand Avenue. For many years the Hast family filled a whole row of seats many times over the years. When Interstate 35 bisected Des Moines, the church was demolished and rebuilt on ground given to them by Louis Grover Hast at 3052 Easton Blvd. Louis was instrumental in raising funds for the new church and donating money for pews and windows as did his sister Georgia Peterson and his brother Fred Homer Hast in memory of their parents. Louis willed to the Presbyterian Church the remainder of the ground adjoining the church, which had been his home.
1920

Anna Baker
Louis Hast
Nell Baker Neeb
Hilda Baker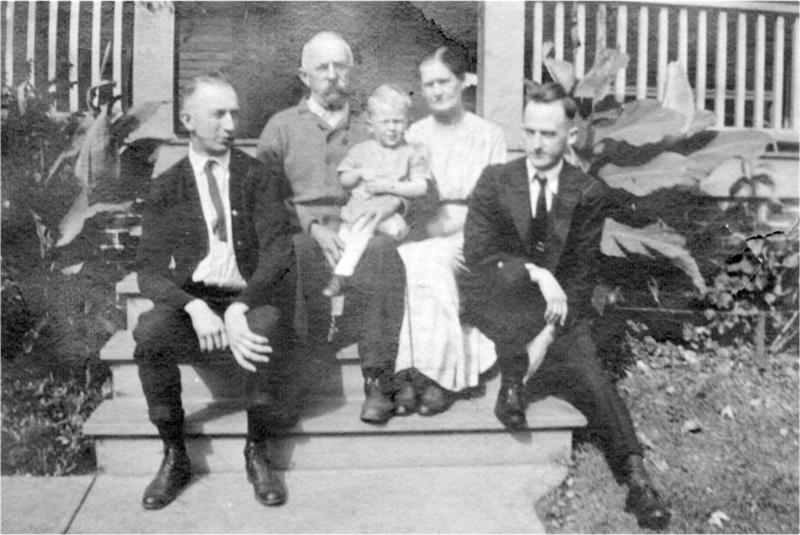 Louis Hast Sr.
George Richard Hast
Anna Baker Hast
Louis Grover Hast
Fred Homer Hast
1924

Fred Homer Hast
Rosa Dora Hast
Louis Grover Hast
Anna Baker Hast
Louis Hast Sr.
George Richard Hast
Rosa Dora is Pregnant with Louis Mohr Hast
Louis Sr. died May 24, 1924. He is buried at Laurel Hill in Des Moines.
Anna died in 1943. She is buried with Louis at Laurel Hill.
At the Laurel Hill Cemetery I found reference to:
Charles J Hast, burial date: 11/25/1909 age 58
Ester B Hast, burial date: 8/16/1885 age 25
Infant of LG Hast, burial date: 4/26/1909 age 0 Is this Louis Grover's Son?
Loula Hast, burial date: 1/26/1897 age 18 This is Charles Daughter
Nora Hast, burial date: 2/13/1885 age 3 This is Charles Daughter
Pictures:
Hast, all, Louis Hast, Carl B Hast, Lulu and Anna